Kennelplus. Boarding, Grooming, Daycare, Training, Breeding, Pet Sales, Class Managing, Service Request Tracking, manage your website, sales, products and much more all in one database. This Cloud based Dog Training Software does it all.
IGN has developed a pet training software that is a board and train software and lets you create custom training programs, individualized lesson planning, color coded dog training progression views, report card generation, invoice generation, additional expense tracking and more.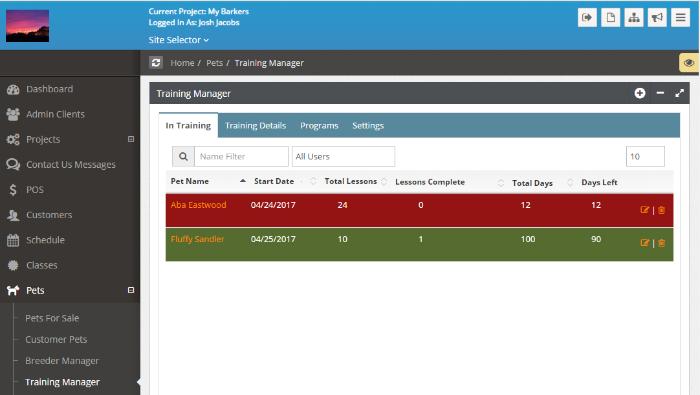 Custom Dog Training Programs: Our dog training software allows you create as many dog training programs as you need and or offer. Obedience programs, manners programs, socialization programs, gun dog programs, derby programs, adventure programs.
Individualized Dog Training Lessons: Our pet training software gives you control to define specific lessons within each program. An obedience training program might contain lessons of Sit, Sit-Stay, Down, Down-Stay, Heal, Focus, Retrieve. All of these lessons that you define into each program are tracked by the trainer and graded during the dogs training.
Dog Progression Views: The Dog Training Software allows you to quickly see if a specific dog is falling behind on training to inform you to schedule more time with the dog. From that quick glance, you can drill down and see specifically which lessons the dog is struggling on. Maybe you need to try a different trainer for that skill, simply assign that lesson to a different trainer.
Dog Report Card Generation: Just like in school, when we were learning, we got report cards so our parents could see how we were doing. kennelplus does the same. As the pet works it's way through the program, the system keeps track on a report allowing you to grade each lesson throughout the process. This report card can be easily displayed, printed, saved or emailed to the pets owner letting them know their dogs progression. Along with grades, the trainer can add specific notes to each lesson informing the owner details about each.
Invoice Generation and Expense Tracking: During the training program the system allows you to add additional training expenses that were used with the dog on top of the cost of the training itself. Examples could be additional treats used during obedience training or more birds used during gun training. These additional expenses are easily added to the pet and upon completion of the program are added to a final invoice if you would like.
If you are in or getting into the pet industry and are specific in the Dog Training arena, then this dog training software is for you. Contact Us now to schedule a demo and see for yourself just how amazing this pet training software is.
If you would like to see some screen shots of this software, please check out my other blog HERE talking more about this and how it is coupled with boarding as well created a slick board & train software.